Casale Girasole and Casa San Pietro are conveniently located about 5 km (2.5 miles) from Cortona in the quiet rural plain surrounded by beautiful green hills. You can reach the local village center by foot where you will find a grocery store, café, pizzeria and florist. Other small villages with stores (bakeries, butchers, mini-markets) are within walking/biking distance.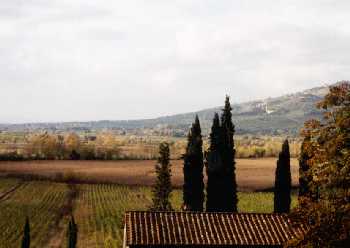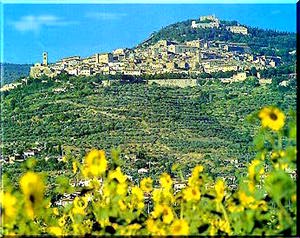 Getting Around:
The closest train station to Casale Girasole and Casa San Pietro is in Terontola, about 10 minutes by car and 20 minutes by bicycle. The Terontola-Cortona station is quite well-connected for travel to Florence and Rome, as well as Perugia, Assisi, Orvieto and Arezzo. Italian trains offer an inexpensive and relatively easy way to get to the main cities although having a rental car would make day-trips easier, especially to the smaller, quaint towns in Tuscany and Umbria.
Approximate distances by car from Cortona to other main towns:
Florence 1.5 hours, Siena 1 hour, S. Gimignano/Chianti 1.5 hours, Arezzo 30 minutes, Perugia 30 minutes, Assisi 50 minutes, Pienza/Val d'Orcia 45 minutes, Montepulciano 45 minutes, Montalcino 1 hour, Orvieto 1 hour, Rome 2 hours, Fiumicino Airport 2.5 hours.